Public Speaking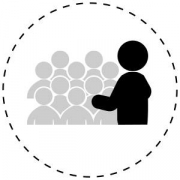 Public Speaking – Speaking At A Conference
Boring and long-winded speakers ruin the image of a conference and leave a negative impact for all participants. Fine tuning a professionally organized event with well prepared speakers is essential.
Creating lively conferences
Preparation is the key to success. Creating a great story, define visuals and working on your performance skills. Most important of all: Create content that will inspire your audience.
---
Content
Audience analysis for conferences
Structure your content according to your message
Preparing a spoken script
Enhance your speech with the right visual support
Guidelines for speaking techniques
Personal appearance and body language on a stage
---
Results
Feel confident and positive on a stage
Giving a longer speech and still keep your listeners interested
Deliver a clear message that supports the theme of the conference
Create a speech that suits the interest and knowledge of the audience
Keep your listeners interested and create a positive image
---
Contact | Training & Coaching | Online Training | Live Coaching | News | Blog
---