Online Course Presentation Training
The demand for this Online Course is huge. Many cannot find time to attend a seminar. Often a company will not have enough participants for an in-house Training. Or a live training simply doesn't suit the budget.
No Problem. I have the perfect solution for you:
Online Course: Presentation Training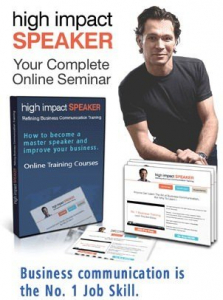 The course includes 35 video files with all inputs, systems and techniques from a live seminar.
4 Chapters
1. Personal Appearance and body language in a presentation.
2. Message Development System to structure your content.
3. How to use visuals to enhance your message.
4. Handling critical questions after a presentation.
This course can be bought as an individual or for a group. Contact me for special group discount of up to 60%.
Benefits – Online Course: Presentation Training
Save time: you can access this course at your convenience. No need to spend days in a live training
Save money: An online course is easy on your budget. No traveling costs (flights, taxi, hotel, meals). Less than participating in a seminar.
All Content stays with you. Three hours after a seminar 50% of the content is forgotten. Not with this course. You always have access to all files and call them up whenever you need a reminder.
Always and everywhere. The course is optimized for all devices: Computer, smart phone or tablet. All you need is an internet connection.
More: HighImpactSpeaker.com
Questions? Please use the contact form.
---
Contact | Training & Coaching | Online Training | Live Coaching | News | Blog
---